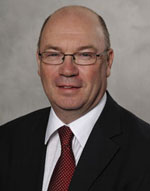 Alistair was the Conservative Member of Parliament for North East Bedfordshire from June 2001 to November 2019, having previously held the seat of Bury North between 1983 – '97.
Alistair has served as PPS to Rt. Hon Kenneth Baker (1985-90), junior minister at the Department of Social Security in 1992 and was promoted to Minister of State, Minister for Disabled People in 1995.
Returning to Westminster in 2001, Alistair was PPS to the Leader of the Opposition from November 2002 to May 2005, following which he was appointed Shadow Minister for Communities and Regeneration with responsibility for social justice and action. In 2008 he was made Assistant Chief Whip and Deputy Party Chairman. Following the May 2010 General Election Alistair was appointed Parliamentary Under Secretary of State at the Foreign & Commonwealth Office, Minister for the Middle East and South Asia.
Alistair is on the Board of Patrons of Habitat for Humanity GB, a charity tackling poverty housing on a global scale and an Ambassador to Prospects, an organisation working with people with learning disabilities.
Alistair qualified as a solicitor in 1980 and has also worked in recruitment as a headhunter for the not-for-profit sector at Whitehead Mann GKR (1997 – 2001). In addition, Alistair is the co-Founder of the Enterprise Forum and served as Chairman between 1998 and 2001.