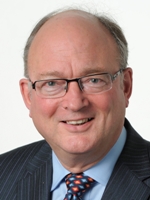 Malcolm Harbour was elected to the European Parliament in June 1999, and re-elected in June 2004 and 2009. He represented the West Midlands Region of the UK. He was Chairman of the Internal Market and Consumer Protection Committee and was a Member of the European Conservatives and Reformists Group. He was Vice-Chairman of the Parliament's Science and Technology Options Assessment Panel (STOA) and a Member of the Inter-Parliamentary Delegation to Japan.
Malcolm Harbour takes a special interest in the EU single market, industry, science and technology policy. He was Chairman of the European Manufacturing Forum, and the Ceramics Industry Forum and was Governor of the European Internet Foundation. He was the lead MEP (rapporteur) for major legislation on Telecoms, the Single Market and Motor Vehicle standards until he stepped down as an MEP in 2014.
From 2005 to 2009, he served on the CARS 21 High Level Group, a Europe-wide initiative to boost the automotive industry. He was named as a top 50 European of 2006 for his key role in broking agreement on the Services Directive. In May 2006, he was named the UK's most Small Business Friendly UK Parliamentarian by members of the Forum of Private Business. In September 2010, he was voted Internal Market MEP of the Year. In November 2012, in a ranking produced by Euractiv, he was named the 3rd most influential Briton in EU policy. Malcolm was appointed a CBE for services to the UK economy in the 2013 Honour's List.
Before his election to the Parliament, Malcolm Harbour spent 32 years in the motor industry, as an engineer, a senior commercial executive, a consultant and a researcher. He began his motor industry career in the BMC Longbridge Plant as an Austin Engineering Apprentice in 1967.
Malcolm Harbour was born in February 1947. He was educated at Bedford School and Trinity College, Cambridge, where he graduated in Engineering, and at the University of Aston where he gained a Diploma in Management Studies. He received an Honorary DSc from Aston in 2008.