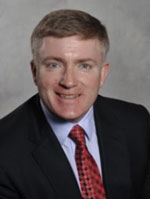 Mark was MP for Hertford & Stortford from June 2001 to November 2019. In November 2002, he was appointed Shadow Financial Secretary. A year later he became Shadow Minister for Economic Affairs. In November 2004, Mark became an Opposition Whip.
In December 2005, he was made Shadow Spokesman for Business & Enterprise and this role was confirmed in July 2007 with a wider brief on Enterprise, Deregulation and Competition. In July 2007 he was also appointed Shadow Minister for his home county of Cornwall.
On being re-elected as the member for Hertford & Stortford in the 2010 General Election, Mark Prisk MP was asked by the Prime Minister to join the Coalition Government. He was appointed as a Minister for the Department for Business, Innovation and Skills. His Ministerial portfolio whilst wide ranging focuses on key business sectors, promoting enterprise and cutting red tape. In June, the Prime Minister asked him to also take on the Trade and Investment Ministerial portfolio until January 2011.
During his Parliamentary career his roles have included Vice Chairman of the All-Party Parliamentary Small Business Group, Honorary Vice President of the Small Business Bureau and Chairman of the East Hertfordshire Business Forum.
Previously, Mark worked in the property and economic development markets as a director of a £3m practice (1983 - 1991). Between 1991 - 2001, Mark advised a wide range of professional firms both in the UK and abroad through his own strategic marketing and communication consultancy.